Stylish, Clean, Class and Short Hair. If these the words that come to mind when you think of your ideal hairstyles, then the next time you visit your barber, a Army haircut is in order. Army Haircuts is stylish and cool. The Army has inspired many things in the quintessentially stylish gentlemen life. From the khaki tones and army vests in sartorial choices to the Army allusions from a Jeep convertibles, the army has been a source of inspiration for gents who like to projects a themed aesthetic. We have compiled the best army haircut that work for every man no matter what his occupation is.
One is for the gents who appreciate the army haircut of the past. A side part is a usual feature of this style, but a high gloss, gel-like product should be used for an accurate nod to the past. Experiment with longer hair up top, and style accordingly with a Gel based product to capture the retro essence of the army of times gone by.
The difference between adaptations of this cut and the other mentioned in this article is the finish of your hair. These short styles serve a number of purposes, including showcasing health and strength, inspiring confidence in the civilian population and protection. The short hair is easy to wear and maintain for the active lifestyle and challenging environments that army life entails. Here you can see the army haircut.
Stylish Army Haircuts
Army haircut have not been known to be stylish and trendy, but the right style on the right person can really make all the difference. Army Haircuts was only used by soldier, but the last 20 years have seen army styles such as the fade, undercut, buzz cut surge in popularity among men.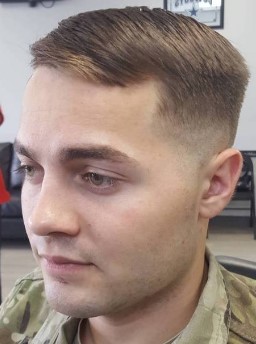 Best Army Haircuts
Here are the best army haircuts for men in 2019. Whether you want a fad or undercut on the sides and a long or a short hairstyle on top, these best army haircuts and hairstyles will inspire you.